Dear friends,
Now that the new year is in its full swing, I am excited to stand almost at the end of a gruelling time of personal discovery and working on an art project which has kept me busy during the whole of the pandemic. Not that the pandemic and everything is completely over, but the wound has certainly healed tremendously well and I think that everyone is looking forward to a fresh start and new beginnings as art viewing at actual physical venues is picking up and things are returning to normal. So, I am pleased to begin my exhibition program this year with a solo which is all about transformation and new spiritual beginnings.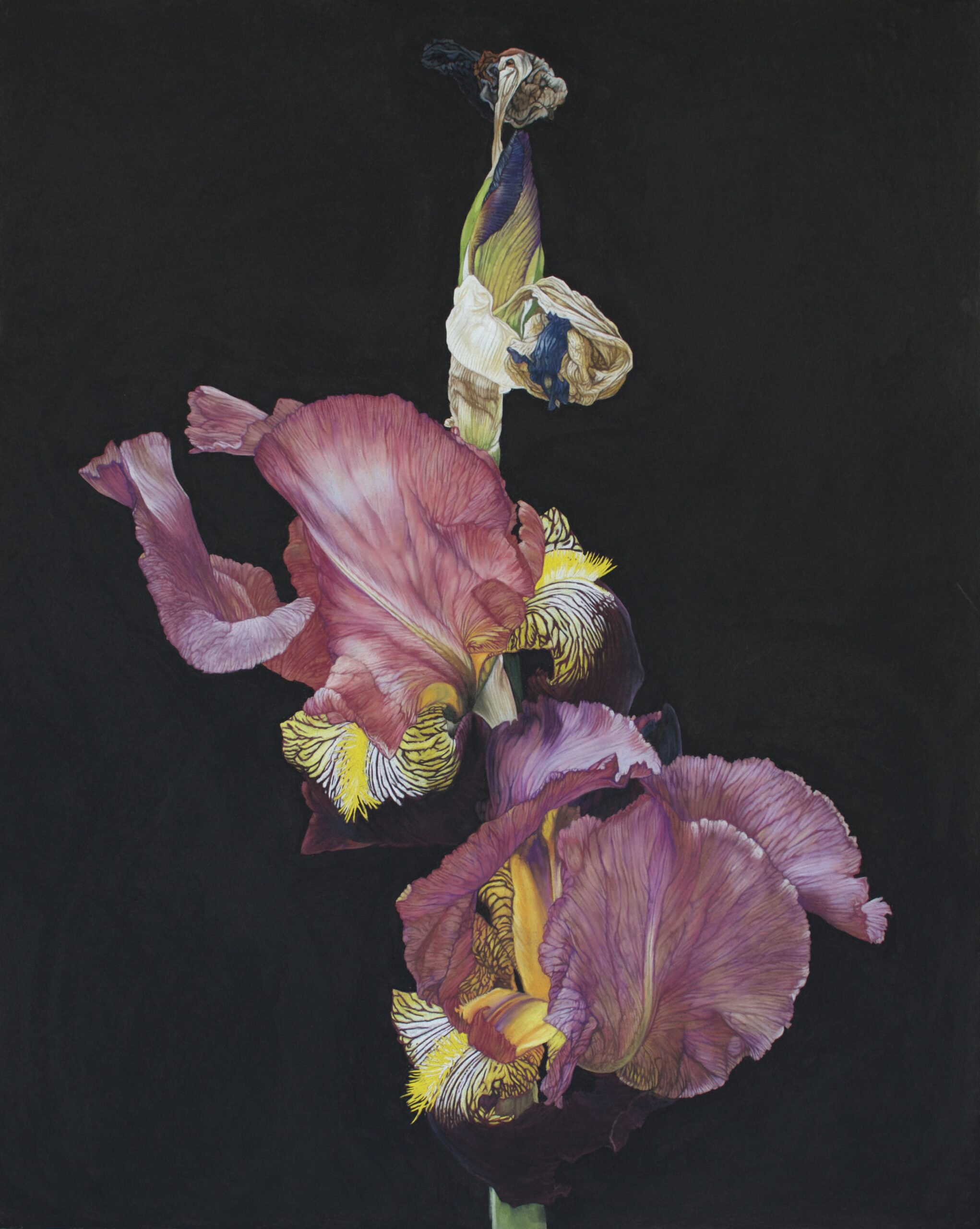 Thinking back on 2021
To view the cosmos lashing out its capricious onslaughts against male and female alike and in the same measure, is to acknowledge the human condition in its totality.
September 2021 saw the hosting of another National Portrait award by Rust-en-Vrede Gallery.
This year the prize money was sponsored by the Rupert Art Foundation and the top 60 exhibition was exhibited at the beautiful Rupert Museum in Stellenbosch.
My two portraits Ngoanang William Matseba, 9 April 1950 – 19 May 2021 and What the Guy did to Her were selected for the top 40 exhibition which was shown at Rust-en-Vrede Gallery itself and later moved to the Rupert Museum where the top 100 artworks were shown together.
I have known William literally all my life and he became one of my favourite and most rewarding portrait models, after I grew up to become an artist. He sadly passed away just before I completed this very last portrait of him. His daughter Helen and I agreed that I should finish the portrait anyway and enter it in honour of her dad.

What the Guy did to Her is a portrait of myself in hospital, shortly after I had that big fight with a burglar in 2019.
It was not a difficult portrait to make, as such. What was more difficult was to have it exhibited in a gallery and to show it to the world.
A risk that I am glad I took, for I was overwhelmed by the positive and supportive reaction it created at the exhibition and later on Instagram where I posted an image of the portrait. I was so overwhelmed by all the kind messages I received that I didn't reply to a single one of them, they were so many! But each and everyone was special to me.
With that little artwork, I aimed to express a deeply personal and vulnerable moment in my life, a place I found myself in, as a result of pure criminal violence.
Many people viewed the little portrait as a statement addressing gender based violence - even domestic violence.
That is most certainly the first thing that jumps to mind when one sees a mangled and disfigured woman in a hospital bed. I fully support issues surrounding GBV and yes, GBV is definitely a cowardly criminal act too, but I fortunately have no personal experience of living under a constant atmosphere of fear and unprovoked violence of that kind.

This artwork is about something other than that. It is about the forgotten and ignored victims drifting around in our justice system and about all the people, male and female, who we might not even know about because, just like GB violence, they are scared or embarrassed to open up.
In the title I name the perpetrator "The Guy", not because I wanted to stress his masculinity, but because that is exactly what the burglar was to me – an unknown person, a guy, whom I have never met before, whose name I didn't know.
For a while after my incident I have been counting all the men who were affected or died as a result of criminal violence and the number of male victims (hurt or killed by other men – that is true), in my sphere of reference, far outnumbered women victims!
The little portrait essentially cries out that violence in any shape or size can happen to a person of any shape or size.
The winner of this year's portrait award was Felicity Bell, with Ashley Ogilvy in second place and Christelle du Plessis taking third place. A fourth place was also awarded to Bettina Elten and fifth to Liesl Duthie.
The Russian Pavilion at the Venice Biennale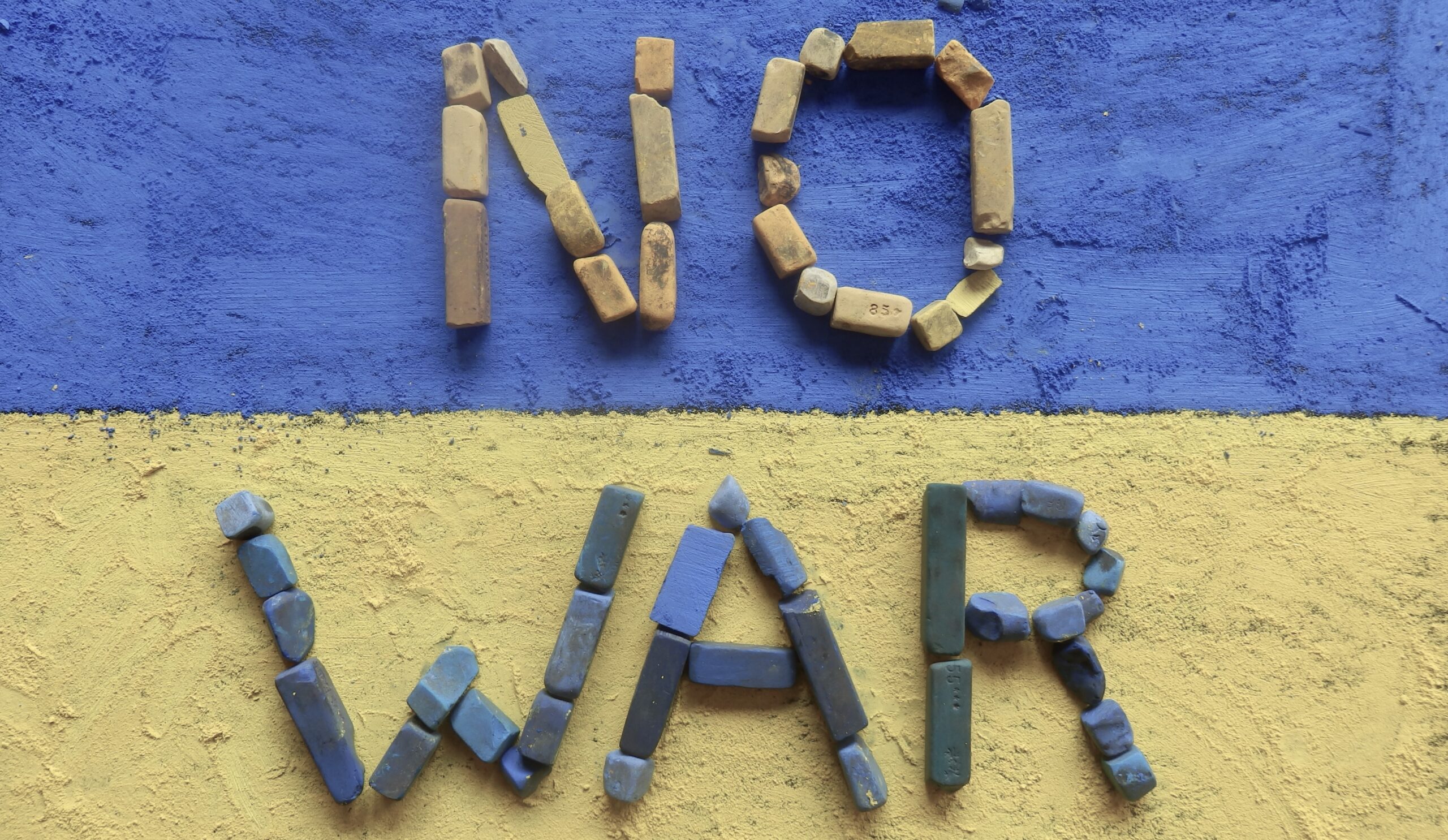 "There is nothing left to say, there is no place for art when civilians are dying under the fire of missiles, when citizens of Ukraine are hiding in shelter, when Russian protesters are getting silenced. As a Russian-born I won't be presenting my work at Russian Pavillion at Venice Biennale" -Kirill Savchenkov
Russians Kirill Savchenkov, Alexandra Sukhareva, and curator Raimundas Malasauskas resigned from their positions at the Venice Biennale, thereby cancelling their participation in the 59th International Art Exhibition, which runs from 23 April to 27 November.
Kirill Savchenkov's artistic practice raise questions of hidden power and violence formations, new traumas in the processes of production, experience, power and culture. The works highlight the proxy-metabolism between technology, informational autocracy and media weaponisation. - kirillsavchenkov.com
Alexandra Sukhareva is known for her chemical experiments into the capacity of objects to act upon the world and for the world to act upon them. -tate.org.uk
One cannot help but wonder what dangers this brave group of people may face because of their principles. Taking part in the Venice Biennale would have been a, if not the high point in their careers and they now may face ruined careers, arrest and even jail.
Yet many Russian artists and art administrators have signed online petitions opposing the Ukrainian war and many have promptly been fired for speaking out in this manner. What an admirable example!

I hope that the echo of Arch Bishop Desmond Tutu's words will bring our leaders to reconsider their own 'neutral' stance:
"If you are neutral in situations of injustice, you have chosen the side of the oppressor. If an elephant has its foot on the tail of a mouse, and you say that you are neutral, the mouse will not appreciate your neutrality."
This is a quote which recently has been used by many politicians and humanitarians to try and urge the South African government to a heroic and independent decision.
As colomnist Justice Malala has written for Financial Mail, "by its current decisions South Africa has already put itself on the wrong side of history. If it continues in this way, it may find that it has also put itself on the wrong side of both international and constitutional law."
As for me, I stand with the many Russian artists (and Ukraine and most of the rest of the world!) in strongly condemning Russia's invasion of Ukraine and demanding that it withdraw its forces.
Ps. I was looking through my artist statement for Morph again this morning to see if I've missed anything - you know how spelling mistakes and the likes have the tendency to sneak up on you, even after you've read through something a thousand times...
My second paragraph reads: "In Ovid's epic poem Metamorphosis Daphne, the mythological nymph of Arcadia, becomes a universal symbol of imperial power through victory. But not her own. Her total transformation into a laurel tree to escape Apollo's advances, causes her to lose her sense of self and her autonomy. She is henceforth paraded as a symbol of Apollo's victory and the name 'Daphne' is never mentioned in the poem again." - Adapted from Elizabeth Needham's thesis Plants and Empire in Ovid's Metamorphosis
A little bell started ringing - I substituted "Daphne" with "Ukraine" and "Apollo" with "Russia" and threw out a couple of words, - just a silly experiment.
...I was surprised and dismayed with the results...
New website
These past two years have been a time of many transformations in my life as I am sure it has been for many of you too.

I launched my new and improved website at www.lenahugo.com. Please have a look and let me know what you think!
Don't worry if you forget the new name. Any visits to helenahugo.com will be redirected to lenahugo.com for a long time to come and in the same way all emails sent to helena@helenahugo.com will be forwarded to my new email address which is: lena@lenahugo.com
By now you might have noticed that I am simplifying my name - a metamorphosis which, in a way, goes hand in hand with the theme of my forthcoming exhibition Morph. From the 1st of January 2022 all my artworks are signed Lena in stead of Helena.
For those of you who really, really know me well, this will come as no surprise, as Lena has always been my real name to my closest friends and family and I am finally making it official as well.
Morph - A Solo Exhibition at the Gallery at Glen Carlou 20 March 2022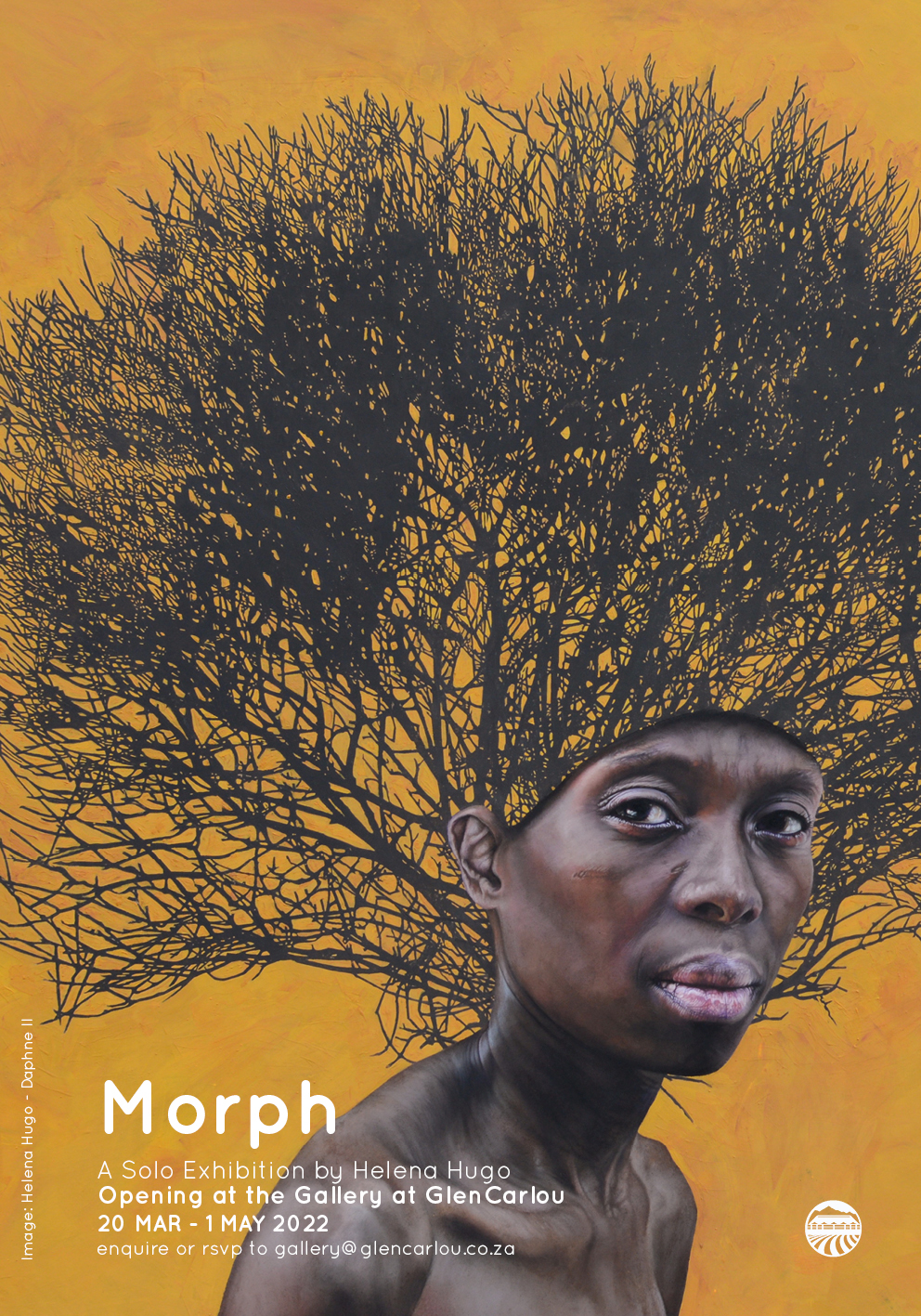 The exhibition Morph investigates the ambiguous and changeable nature of power. It considers our perception of power over, or in relation to the other, whether it be another person, an animal or plant or the environment as a whole and how this can suddenly be overturned, depending on random and unstable circumstances. It also questions traditional translations of gender expectations in terms of power monopolization - usually accepted as the powerful male against the weak female. Transformations or metamorphoses, especially as they are viewed through mythology, are used as metaphors for power thus lost or gained.
It is only natural that my upcoming solo exhibition should be birthed from my experiences in 2019 and develop from there.
Working and trusting one's own judgement during intermittent Covid isolation was difficult (for everyone, I think), but the work that I've been doing for the past two years will finally be exhibited this month at the Gallery @ Glen Carlou.

The opening will be on Sunday 20 March at 11 in the morning. RSVP is preferable and you can do so by dropping an email to gallery manager Christa Swart at gallery@glencarlou.co.za
The exhibition will run until the 1st of May and the gallery will be open on Mondays to Sundays from 10.00 till 17.00
Glen Carlou Vineyards is minutes away from Stellenbosch and less than 35 minutes' drive from Cape Town, on the Simondium road right next to the well known Babylonstoren.
GPS address (S33° 48' 34.44"; E18° 54' 19.41")
The wines of Glen Carlou are individualistic and honest expressions of their terroir.
Experience incomparable views at the restaurant (adjacent to the gallery) whilst enjoying seasonal lunch menus featuring sustainable sourced and ethically grown produce. -glencarlou.com
If you would like to have lunch on the day of the exhibition, please book in advance to secure a table.
Press release by Peter Machen in the South African Art Times
For those of you who live in or close to the wine lands, or who will be travelling there for Easter, I
sincerely hope to see you at my opening on the 20th or my walk about on the 27th of March.
Until then I am counting down the days for a much needed 'working holiday' in the beautiful Boland.
See you there!
Lena